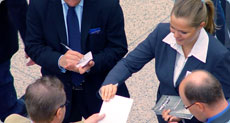 Welcome to Vanguard Solutions
Vanguard Solutions is an integrator of technologies serving military, industrial and commercial applications worldwide. With over 50 years of experience in communications technology design and implementation, we listen hard to our clients and study their needs. We are very aware of the difficulties between people and ever changing technology in the workplace. We provide scalable solutions and training for personnel. We provide a migration path from existing technologies to new solutions to keep communications technology budgets under control.


We believe the best solutions help people do their jobs... not add to it.